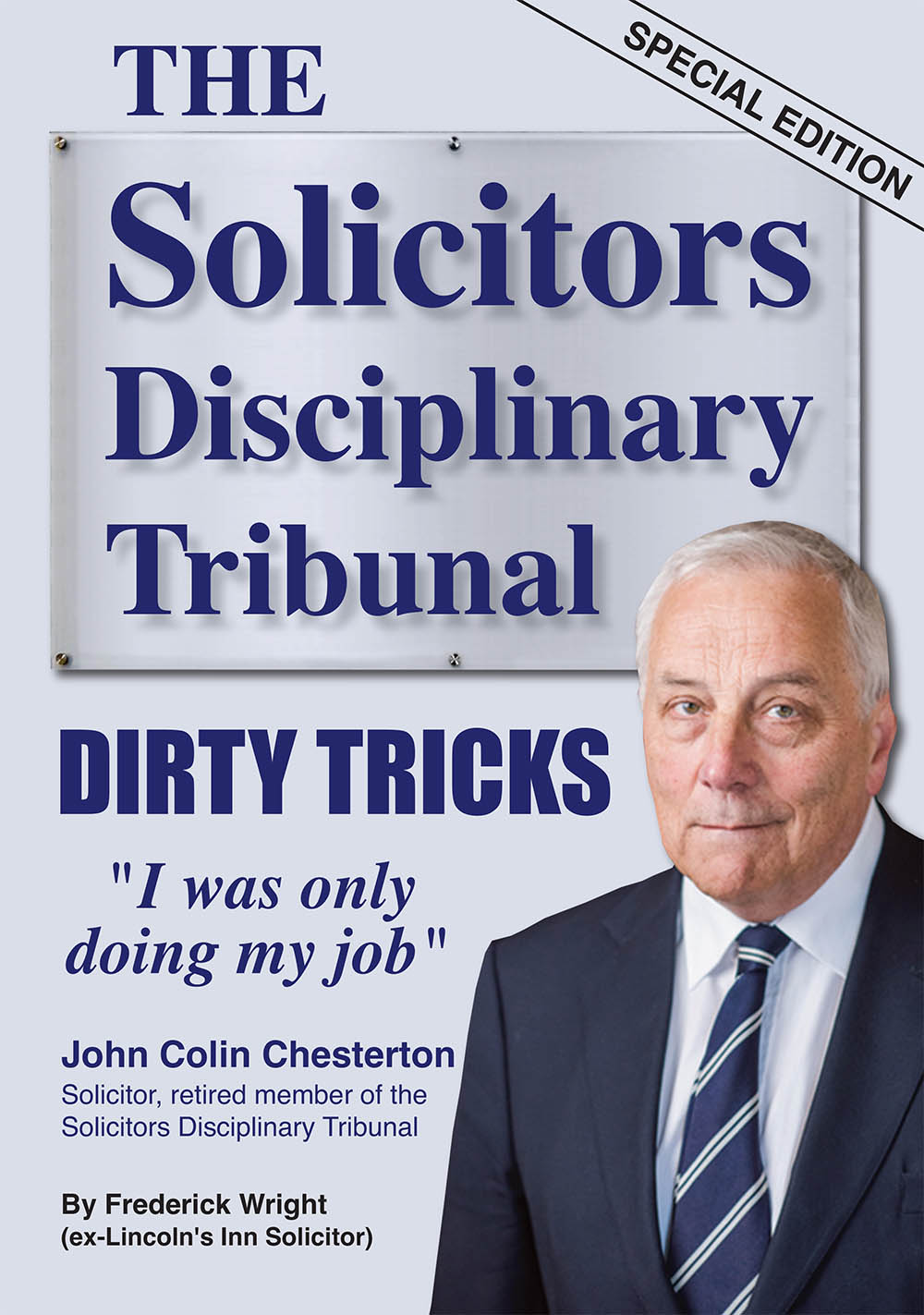 Let me introduce the story of my good friend Mr Farid El Diwany, once a Commercial Property Solicitor. A man who for nearly five years worked (at 14 Old Square) in the famous Lincoln's Inn. As did I. Farid had also been a formidable freelance Solicitor for 10 years who exposed bullying and corruption in the legal profession but in 2006 was prosecuted by the Law Society for bringing the profession into disrepute thanks to his whistleblowing efforts. An independent adjudicator ruled that Farid's website was 'a valid contribution to the debate on the bullying of Solicitors in the legal profession'. The Law Society were defeated and the Law Gazette reported on it. The whole of that formidable fight can be read in my book entitled: The Law Society - Solicitor v The Establishment, available on Amazon. From 1989-1998 Farid was the Commercial Property Solicitor for the Port of London Authority. He particularly enjoyed the company of the Port of Tilbury's Chief of Police David Sebire and his deputy Lance Cornish.
Second time around Farid El Diwany was not so lucky. His website Norwayuncovered.com, set up in 2000, earned him a second trumped-up conviction for 'harassment' in Norway in 2003 and 11 years of front page Press exposure in Norway ... until Anders Behring Breivik came on the scene. The Solicitors Regulation Authority (SRA) found out in 2016 and in 2019 Farid was struck off the Roll of Solicitors for bringing the profession into disrepute. But Farid was no subversive. He was born in the London Hospital at a time when the Kray twins ruled the roost. His mother was German - Lutheran by birth, and his father an Egyptian Muslim; a doctor. Farid was a Tottenham Hotspur fan and a rock music fan too, especially of Uriah Heep. Indeed, in 1987 he introduced his best friend, one Russell Gilbrook, to Uriah Heep and Russell became their drummer in 2007. Probably the best drummer in the world now - and I am not exaggerating.
I am ashamed to say there is still a huge reservoir of hatred for the Islamic ideal, Muslims – call it Islamophobia if you like - in the British Legal establishment. (Just as there is in the Conservative Party – and yes, Sajid Javid did very well to get Boris Johnson to set up an enquiry). Hatreds, subtle but all-pervasive, manifested by the likes of legal regulators such as Colin Chesterton, Gerald Sydenham and Geraldine Newbold (CEO) at the Solicitors Disciplinary Tribunal and Paul Philip head of the Solicitors Regulation Authority; and by the judiciary in the form of Lord Justices Warby and Popplewell and Lady Justice Sharp and Lord Chief Justice Sir Ian Burnett: read Farid's 2021 book entitled Lord Chief Justice Sir Ian Burnett – Did YOU know? Available on Amazon. Islamophobia also ably demonstrated by law firm Doyle Clayton in Reading: incredibly well paid by the SRA and SDT to prosecute both civilly and criminally Farid El Diwany after he refused to back down. Barristers such as Andrew Maguire joined the abuse by comparing Farid El Diwany - before Mrs Justice Farbey - to hit-man Liam Neeson in the film Taken. The Government Legal Department, until recently headed by Lord Chancellor Robert Buckland Q.C at the Ministry of Justice, wanted Farid El Diwany declared persona non grata. Chris Grayling a former Lord Chancellor was equally disgraceful: he refused Lord Pickles a meeting in 2014 to discuss Farid El Diwany's request for a change in the Judicial Conduct Rules. Government minister Eric Pickles M.P stood fully behind his constituent Farid El Diwany. This rampant bigotry is steadfastly maintained and covered up by Sir Ian Burnett. The evidence for this is unassailable. But it is so well camouflaged: under the cover of much used clichés, such as the 'rule of law' or the 'independence of the judiciary'. Despite a vast body of professionals employed in the several branches of the legal profession so little can be done to actually rid us of certain iniquities. The huge and unjustified fees involved in pursuing justice are a major stumbling block for one thing. Armies of Solicitors and barristers are employed to maintain the corrupt status quo. Paid to cheat effectively. Very subtle and crafty wording is used by the barrister to argue a case.
Besides which, there is not one black or Muslim full-time judge at the Royal Courts of Justice. The only Muslims working there are in the back offices: filing clerks assisting with the daily administrative paper work.
As for Farid El Diwany he will take up the story in his own words. A truly magnificent exposé. His argument that bigoted judges and regulators cheat is completely justified. The judiciary's best tactic is to tell the parties at the end of a civil trial that 'judgment is reserved'. Then, when one or other of the Claimant or Defendant finds out he has been shafted it is, of course, too late to ask the judge for clarification or substantiation. He or she then has to fork out tens of thousands more in fees (and costs if the case is lost) with the barristers arguing in court - if permission to appeal is granted: 'On the one hand this ... on the other hand that ... but only if ... however... notwithstanding ... blah, blah, blah'. Money for old rope. Farid El Diwany is also correct to declare that the rules and regulations of the Solicitors Regulation Authority, Solicitors Disciplinary Tribunal, Bar Council, Office for the Investigation of Judicial Complaints are all too often self-serving. Rigged in their favour. That's why so few complaints or defences succeed. Judges always escape sanction. Well protected. Overall, there is an establishment status quo that is impossible to change. See for yourselves.


The 'Best of British' features, articles from the mainstream U.K. press covering a variety of social topics including sexual health, abortion, rape, the family and libel.